Stay up-to-date with new postings by clicking here. Thanks for visiting Shay's S Spot!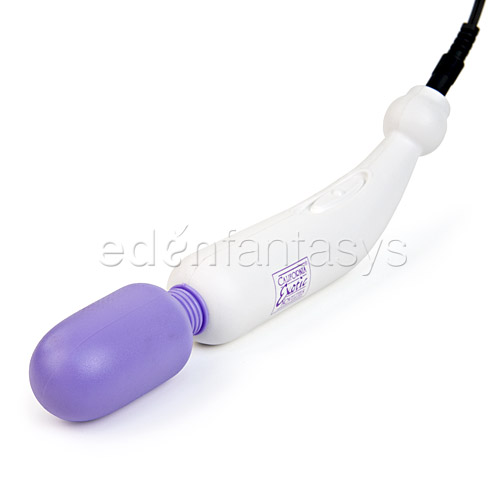 Although I don't have a Hitachi Magic Wand, I have reviewed a wand-like massager before, so I was interested to see how this mini massager from my friends at CalExotics would compare.
My Mini Miracle Massager is smaller than the Hitachi and the Ideal – hence the mini part of it's name. It's phthalates free, has a simple smooth head, and plugs in to the wall for power, like it's bigger brothers. It has three settings: off, low, and high.
So, with my roommate gone out for the evening, I plugged in this baby and gave it a whirl.
What I liked: I liked how compact this wand was, compared to the Ideal, makes it much easier for storing. However, considering that it's smaller, it wasn't much less powerful! This little massager is a beast! Not clit liquifyingly powerful, but still impressive. The controls were pretty easy to use and the toy was comfortable and natural to hold.
I liked that it plugs in, because I hate messing with batteries; however, this does mean dealing with a cord and needing to be near an outlet (p.s. you probably don't want to bring this one in the tub/shower). That said, I didn't find that the cord got in the way while I was using it.
What I didn't like: Thank goodness my roommate was out, because this vibe seemed a little loud.
This would be great for: someone looking a hitachi/ideal -type toy, but on a smaller scale, without losing much in the power department. Don't forget that you can use this massager all over your bodies too, not just on the naughty parts.
My Mini Miracle Massager rumbles it's way to a healthy 7 out of 10
Psst – If you want one of your own, try HERE