Toy Review - Ideal
I think the reason why it's creators picked this name is because during the design meeting someone brought out their Hitachi Magic Wand (or HMW) and said "this is good, but you know what would be ideal?" and the rest is history.
Seriously though, I was actually reluctant to try out this vibe at first because so many of the other sex blogging girls had talked about the HMW practically rubbing their clits off and I wasn't too sure that was something I wanted to experience. But come on, I have a duty to you guys and, once again, I put my on comfort on the line to get you guys a good review! Luckily, it turns out that I didn't need to worry, the Ideal left all my delicate bits unscathed.
Although Ideal resembles the HMW, there are a number of difference: it's got an ergonomic handle, it can run cordless (but comes with a corded charger), it's pretty light, and it's got a really flexible head/neck.
What I liked: Those features that I listed above? yeah those are really good features. The curved handle doesn't seem like a big deal at first, but it really does make it more comfortable to grip, whether you're holding the toy between your legs or over your shoulder for a bit of a back massage. This is also one of the first toys where I actually was fine using it on the lower setting, though it's nice to have the option to turn it up higher when you want to. I didn't think that I would like the broad head, because it doesn't allow you to focus the vibrations on a single location; but I found that I actually did enjoy having a wider area stimulated and the vibrations were strong enough that they didn't disperse very much or leave me feeling like I wasn't getting enough. [P.S. that curved handle makes it super easy to give yourself a shoulder and back massage too, if that's what you need at the moment.]
What I didn't like: My one complaint would have to be that this is a VERY loud toy; unless you live with people who play their music really loud or have hearing problems, there is little chance you'll be able to use this one covertly in close quarters.
This toy would be great for: anyone wanting a Hitachi MW style vibrator, but one that's lighter, cordless, and a little more ergonomic - so long as they don't mind the noise.
In conclusion, while the Ideal is a great vibe in it's class, I'm still going to have to deduct some points for the noise: how about an 8.5/10?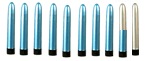 Posted: March 30th, 2009 under product review, sex toys, vibrator.

Write a comment