Questions About Bras and Cocks as Gifts
I published my new holiday gift guide last week, but a few of you have still more questions about holiday gifts - but don't worry, I'm happy to help! ^_~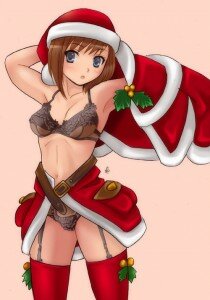 "A quick question for you. My girl wants me to get her lingerie, but I'm not really sure what kind to get her. I mean, I love that she actually wants some, but I dont want to seem too pervy and give her a super slutty pair. What do you think is a good happy median lingerie. It would also be good to mention that my girl has never had lingerie before."
Since lingerie is not something you can return, I would stay away from the tricky stuff and go for something simple like a cute little lacy nightie or camisole with a matching pair of panties (check hers when she's not looking to get the size right). You could also get her a gift card and then go shopping together to pick out something fun - it might sound like taking the easy route, but shopping for lingerie together can be really fun and sexy AND you two won't get stuck with something that looked better on the hanger. ^_^
"Thinking outside the box for a gift, I want to get my wife something special. Whenever she has to go away for work or things of that nature, she can't help but mention how much she'll miss me, and since she likes her toys, I figured it would be interesting to give her a replica of my "member", so she can take a little piece of me with her wherever she goes, so to speak. How would one go about doing something like that?"
Lucky you! Sex toy manufacturers though that some people might want to give this kind of unique gift and have kits all ready for you to use! Try HERE or HERE. You could also make a chocolate mold (there's kits for that HERE and HERE too) for a sweet gift - though not one your partner could really masturbate with. Or you could get really carried away and make a candle or soap replica of your cock!
Ladies, you aren't left out either, there's molding kits for you too - HERE and HERE!
Posted: December 11th, 2008 under reader question, sex toys.

Comments
Write a comment