Ring Seeking
"Oh Shay, miraculous oracle of sexual truth, I come to you for the answer to a question. :^) I occasionally enjoy some fun with cock rings and my question pertains to their usage. I've had a few that were extremely tight fitting where I literally could not get my cock to come down. So is it safe to use cock rings, will it cause any harm or damage to my privates? And how long is too long to wear one? I ask because I would imagine that loss of blood flow to any part of the body seems like it could be damaging. I thank thee oracle for any knowledge thou may gift upon us on this subject."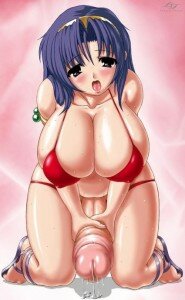 LOL
Tight cock-rings freak me out a little because it IS dangerous to restrict the flow of blood to any part of your body — even wearing a tourniquet in the case of an injury.
A cock-ring should never be painfully tight; you should make sure that you are always using rings that are the right size for you. It's also not advisable to wear a cock ring for longer than about half an hour at a time. As I mentioned above, prolonged restriction of blow flow can seriously damage tissue and it would be an awful shame to wreck your penis - so please be careful!
Posted: August 18th, 2008 under health, penises.

Comments
Write a comment