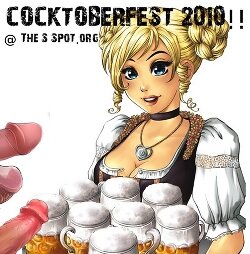 Well hey there!
Back for another serving?
Excellent!
This fine specimen from Down Under originally entered his pic in my CBW contest, but when he saw that Cocktoberfest was quickly approaching he sent me a quick message about his beer preference:
"It was a real blast seeing our efforts appreciated for CBW 195. We really liked your use of a Didgeridoo for your choice of click through cover.  When we saw that the competition for CBW 200 was open to entries from all over we just HAD to do some new ones for you as our submission for the your Bicentennial cock. So my lady and I got out into the Aussie sun for a half dozen quickies.
It was great fun getting them. When my lady got me 'ready' to pose I got so excited that I nearly spoiled the shot. You can see just how excited I was in a couple of them.
…

Gday Shay,
Thanks for giving us the fun of a contest for your 200th cock. So I didn't win, at least I was an entrant. I must admit I was surprised at how exciting I found it to be when I saw mine in the ordinary CBW. You must have a great archive of cocks for your upcoming Cocktober.
If you want to use any of the shots I've sent go ahead but please do not use a Fosters can on mine.
It's a matter of opinion I know but of all the great brews we have in Australia it really annoys me that one of my least favourite Aussie beers is so well known to the outside world. My favourite beer is Cascade from a brewery in Tasmania, they even have a Tasmanian Tiger on the label. A real boutique brew
Here's to a great Cocktober !"
Want to appear in this year's Cocktoberfest?
Send in your pix!!
(The.s.spot@gmail.com)