Toy Review – Juliane the Ceramic Vibrator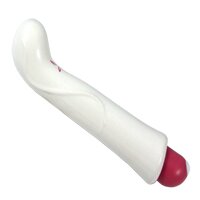 You know what I said to myself when my friends at Babeland asked if I'd like to try out the Juliane? "Self," I said, "you don't have a ceramic vibrator yet do you?" "Nope," I replied to myself, "I certainly do not, I didn't even know they came in ceramic!" Intrigued, I decided to accept the offer and find out what the heck these ceramic vibrator thingies were all about.
Lovemoiselle is the company that is currently making ceramic vibrators. Their line of ceramics are really beautiful to look at and are supposed to be more durable than the kind of ceramic figurines your mother keeps on her knick-knack shelf – more useful too. ;)
Ceramic toys have the same benefits as glass toys: they are non-porous and don't absorb liquids (which makes them more hygenic), they are durable to boot, and are great for temperature play. These ceramic vibrators are also waterproof, so you can bring them in the tub.
What I liked: I liked the look and feel of this vibe. I thought the company was exaggerating when they were bragging about the silky-smooth finish, but it's there and the toy is very pretty. The Juliane also has a great shape – it targeted my G spot so well that I didn't really have to look around for it. The vibrations were fairly weak at the tip, but much stronger further down, closer to the motor in the handle; once it's inserted, the vibrations are more fun for sure. Since this is an insertable toy, I liked that the tip didn't vibrate too hard because sometimes too much internal vibration makes me feel queasy, so this was a definitely good point here.
What I didn't like: I've had a similar problem with other toys made of solid material like this (e.g. glass, hard plastic, etc) in that i just don't find them as flexible as I'd like. Rubber-ier toys seem to suit me better, because they bend a little while you insert them. As I mentioned above, I also didn't find that the vibrations traveled down this toy very well, it wouldn't be great for external stimulation if you just wanted to use the tip on your clit. So there is a both an upside and a downside to this toy's vibration.
This toy would be great for: someone looking for a hygenic toy – this is one you could share with a male partner for prostate stimulation, as long as you cleaned it well in between uses. This one also might be worth checking out if you're still searching for a pretty g-spot vibe.
Juliane is certainly no knick-knack, it gets a 6 out of 10: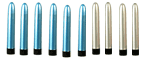 Posted: August 14th, 2009 under product review, sex toys, vibrator.

Comments
Write a comment