Stay up-to-date with new postings by clicking here. Thanks for visiting Shay's S Spot!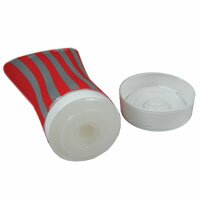 I've been hearing a lot about these Tenga masturbation sleeves (even before they were imported to North America), and it was making me curious. Obviously I don't have the proper equipment myself to test one of these babies out, so when my good friends at Babeland sent me one of the Tenga Squeeze Play tubes, I grabbed a pal with the proper anatomy to help me investigate.
The Tenga sleeves come out of the box looking like large tubes of lotion; if you weren't familiar with these toys and saw one on a guy friend's dresser you'd probably never guess that it was a sex toy. The sexy stripey packaging strips away to reveal an even more discrete plain white device.
Tenga sleeves come pre-lubed and ready to go, and there is a warning not to open it and leave it lying around because the lube could leak out. Tenga sleeves are designed for one-time use, but if you use a condom (or pull out) they can be used a few times before you throw them away. Note that they are also phthalate free – yay! – and the outer is recyclable plastic (just throw away the inner sleeve).
This particular model of Tenga sleeve is also equipped with a hole at the tip – you can create suction by covering the hole on your back-stroke and uncovering it on your down-stroke. But enough about this baby's stats, let's get on with the review!
What he liked: My testing buddy did find the that inner ridges were much more stimulating than on the other sleeve I had him review and says that it generally felt like a better quality sleeve: it seemed like it could take more of a pounding. Once it warmed up, he found the sleeve felt more like a proper orifice and he started to enjoy himself more and more. As for me, I had fun playing with the suction when I took a turn using it on him and enjoyed the squishy sounds it made. It was also nice that the case is somewhat flexible so that you can squeeze it to make things feel tighter. We appreciated that it comes ready to go as soon as you open it, there's no fooling around with trying to add enough lube.
What he didn't like: As I mentioned above, he found it a little cold to begin with, so I would suggest warming it up to body temperature by holding it on your lap or something for a little while before use (this toy is not microwave safe). I also mentioned above that I had fun playing with the suction hole, but he found it a little more awkward from his angle.
This toy would be great for: any guy who is getting bored with his hand and isn't ready to invest in something more expensive, like a Fleshlight. I can also testify that it's a fun toy to use on/with a partner when for some reason you're not able to have sex with them yourself (long-distance, medical reasons, etc). It's a shame that it's not made to last, but at least it's pretty cheap.
The Tenga Squeeze Play sleeve, squeezes it's way to a 6 out of 10: