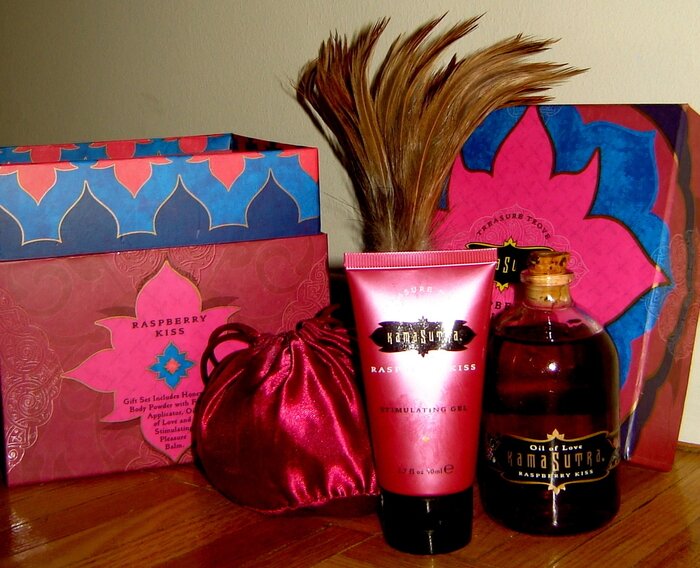 Recently VibeReview decided to send me Kama Sutra's Raspberry Kiss box: it comes in a cute box and as soon as I took off the lid, this lovely sweet smell wafted out – I couldn't wait see what I'd find inside! The Raspberry Kiss box comes with 1 bottle of raspberry scented massage oil, 1 tube of raspberry stimulating gel, and 1 silk pouch of raspberry honey dust with a feather duster applicator thingy.
I've reviewed some of Kama Sutra's other products before, so before I begin with my review let's do a little comparison. Fist, raspberry honey dust vs honeysuckle honey dust – raspberry FTW! The raspberry scent was MUCH nicer, in fact I actually really liked it's sweet smell, whereas we found the honeysuckle overpowering and off-putting. Next, "stimulating gel" vs "pleasure balm"… well, let's just say that they aren't the same thing, but more on that later. Alright, on with the review.
What I liked: I enjoyed playing with this kit as a whole, individually each item has it's failings, but as a whole they are more than the sum of their parts. Smell is very important with products like these, so I really picked up on how nice the massage oil and the raspberry dust both smelled. Oh! We also discovered that the feather duster (meant for applying the dust) feels really good when you brush it across someone's back after their massage.
What I didn't like: Well, as I mentioned, the individual items did have their failings. The massage oil was a little too thick (but did last forever, which was cool) and it's bottle was pretty to look at but not convenient for dispensing. Then there's the "stimulating gel", while it did come in an excellent container, we did not find it particularly stimulating and it smelled like cough syrup.
This product would be great for: anyone looking for a nice little kit that they can use to introduce a little sensuality into their evening. We had a lot of fun taking turns giving each other sweet-smelling massages.
I give Kama Sutra's Raspberry Kiss box a 6.5 out of 10