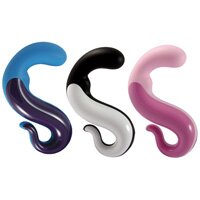 The Delight is a beautiful toy; it's curvy, it's colourful, and it comes in a neat little box – just like me! (except for that box part) I wasn't sure what to expect when those cool people over at Babeland sent me a mystery box of toys, but I was excited to give this nifty item a try.
As I mentioned above, Delight comes with it's own box which doubles as a sexy storage case AND a charging platform – that's right, FunFactory has solved my battery woes by creating a toy than I can just plug in and charge! The last four inches of this toy are made of flexible silicone which transmits vibrations quite well and is chemically safe for insertion. Enough about Delight's stats, let's get to the review.
What I liked: I thought it was pretty cool that the controls light up and are easy to see; I was playing in a dim room and I had no problems figuring out which was the plus and which was the minus. I'm quite sure it would work equally well in the dark. I also appreciated how quiet the motor was, I could hear when I changed speeds (which I liked) but it never sounded like it was going to take flight. The silicone was nice and flexible but had a great curve so it was fun to use externally but could also be used to put a lot of pressure on a g-spot.
What I didn't like: I did have a little trouble with the little loopy thing on the handle, I wasn't quite sure how to grip it at first, but obviously I did manage to figure out a system that worked for me. Also, while silicone does do a fairly good job of transmitting vibrations, well… let's just say that this isn't the most powerful vibe in my toy drawer.
This Toy Would be Great for: someone who needs a more stealthy vibe: since it lights up you can use it in the dark, the motor is fairly quiet, and the case will help disguise it a little when you're not using it. ^_^
You're a lovely toy, Delight, with so many things I like about you – you get an 8 out of 10