Now before you all hassle me at once, yes that "pron" is up there on purpose.
Moving on
The other day I was chatting with AAG online and I noticed that she was slower than usual at responding.
Turns out I had caught her in the middle of watching some porn! *Gasp! Shock*!
Of course, she sent me the link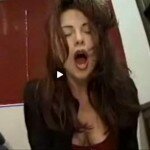 Ah free porn – it's what the internet loves best.