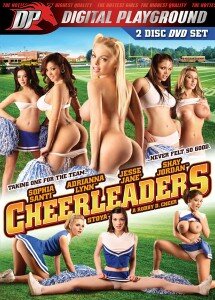 I don't review porn very often because I'm a little picky, but my friends at Babeland sent me a copy of Cheerleaders and it looked promising – what with it's award winning all girl orgy scene (they won the AVN 2009 Best All-Girl Group Sex Scene award). So I sat down with a friend and we decided to check it out.
What I liked: I did appreciate the variety in the girls: there were blonds, brunets, etc and there were small breasted girls, medium, and silly big fake boobs (though not a lot of variety in their body sizes). The sex scenes were fairly well choreographed, and almost moved fast enough for my porno ADD (I get bored fast!). However…
What I didn't like: I know this is such a chick thing to say, but I found that there wasn't enough story in this porno. I'm not even expecting much here, but the girls are given roles: the student seducing a teacher in detention, the new cheerleader experimenting with a more senior cheerleader and her boyfriend, etc – and they can't seem to stick with them throughout the scene! All I'm saying is that if the girls had kept up with their characters and acted according to how their characters might react to, say, their first time sucking a dick, it would have been a whole lot more entertaining and sexy (like in some of Teagan Presley's early work).
Overall: This might not be a title to pick to watch with your girlfriend (unless you just plan to have it in the background and don't intend to pay attention), but if you're solo and just want to see some hot (if not contextual) banging, go for it. :)
5 out of 10 is the best I can muster for Cheerleaders: