Toy Review - G Plus
Last week I told you about when I tried out the Ideal vibrator, but what's a fancy toy without some accessories? Thankfully my friends at VibeReview were ready for me. The G-plus attachment fits over the vibrating head of the Ideal, opening this toy's range up to provide some G-spot area stimulation and a little extra clit action as well. The toy is made of a super soft and smooth material (phthalate free) and, as you can see from the pic above, has two fingers: one for insertion and the other for clitoral stimulation.
What I liked: I really did like the material that this toy was made out of, it was really comfortable and you can grind on it as hard as you want without bruising yourself. Actually, it was when I was using the G Plus attachment that I discovered the Ideal's flexible head, which works great for grinding. The vibrations transfer really well though the G Plus too. I did feel that it added a whole new dimension to the Ideal, plus it was really easy to put on and slide off - the material feels fairly durable, so I didn't feel like I was going to rip it if I was too rough.
What I didn't like: No serious complaints here, though I did find that the clit stim finger didn't vibrate as strongly as I would have liked, but that wasn't too big of a deal with all the other action going on with the general vibrations and the other finger combined.
This toy would be great for: Ideal owners looking for a relatively inexpensive way to add a new dimension to their toy play.
The G Plus attachment was really fun to use, I give it an 8 out of 10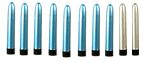 Posted: April 7th, 2009 under product review, sex toys.

Write a comment