Product Review - Maximus Ring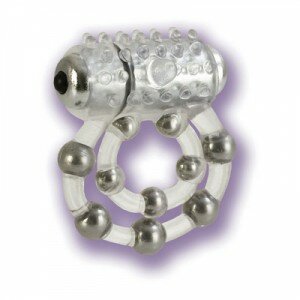 It seemed about time that I finally reviewed a new vibrating cock-ring, so I went online at VibeReview and picked out something that looked good: the Maximus waterproof enhancement ring. It's got two rings: a bigger one for around your balls and a smaller one for around your shaft - the rings are also full of little beads ("stimulating stroker beads" says the box). The included bullet has an on/off button and is meant to slide into the little nubby sleeve above the rings to provide vibrate-y fun during sex. I picked this particular ring because it looked cool and I liked the placement of the bullet because it didn't look like it would mash my clit. So, let's talk about how it preformed for my testing buddy and me.
What I liked: I did appreciate that although this is a soft jelly-like rubber toy, it actually is phthalate free, which is nice to see. Also, as I had hoped, the bullet didn't mash into me, even with him on top, and the vibrations were a lot of fun, while they lasted (more on that later). Unlike the other ring I've reviewed, it worked well for both of us in multiple positions.
What he liked: he found the ring comfortable to wear and really enjoyed being turned into a living vibrator. haha
What we didn't like: Well, it was a little difficult to slide the bullet into it's sleeve because it kept sticking to the rubber. The on/off button on the bullet I got didn't really work; once the cap was screwed on properly it just stayed on until the batties died, which brings me to my next comment. Maximus came with batteries, which I appreciated, since I never seem to have those tiny batteries hanging around; however, they didn't last very long and it's dissapointing when you outlast your toy's batteries. No one wants to stop what they are doing to change 'em. My testing buddy also mentioned that he didn't find that the "stroker beads" really did anything for him at all.
This toy would be great for: Despite my negative comments above, this actually would be a good toy for someone looking for a decent vibrating cockring because it was quite comfortable and fun to wear and play with. It's also a good choice in terms of material because it is phthalates free and the material is more durable than jelly rings, so it it less likely rip and should last longer. Just make sure you pick up good batteries for it.
At the risk of sounding cheesy, vibrating cock-rings are great for solo or joint play because they offer hands free stimulation. Plus, Maximus is waterproof so you can take it in the tub or shower with you.
In conclusion, despite my complaints, I'm going to give the Maximus cockring a 7 out of 10:
Posted: January 8th, 2009 under product review, sex toys.

Comments
Write a comment