"My girlfriend get really apprehensive when I try to go down on her. She says its too much for her to handle. I am no doctor, but I am guessing that her clit is just ultra sensitive or something. Any tips you could give me on how to get her to be more open to letting me go down on her and on how I could maybe do it in a way that will not make her uncomfortable with the amount of pleasure shes getting."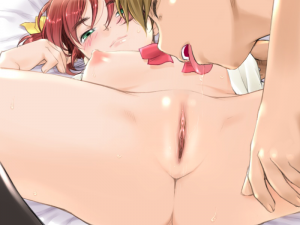 No matter how sensitive a woman's clit is, there's a point where stimulation doesn't feel good anymore and it can almost feel painful – and it sounds like this is where you're taking your gf when you go down on her. So it may not be so much that she's uncomfortable with the "amount of pleasure she's getting", but that she isn't getting much pleasure at all.
Try easing off a little: instead of diving in and attacking her clit, lick everywhere else instead. Spend more time on her labia and her inner folds. If you do go after her clit, take it easy: lick really gently and stay on the outside of her clit hood.
You also need to be willing to STOP when she says she's had enough.
If she still finds that it's too much for her, then cut it out. The point of giving her oral sex is to give her pleasure, right? If she doesn't find is pleasurable, then there's no point in doing it. Everyone's body is a little different and there's no reason for you to try to force her to conform to the idea that "all women enjoy oral sex".
If she doesn't like it, I'm sure you can find some other ways that you'll BOTH enjoy to get off. :)