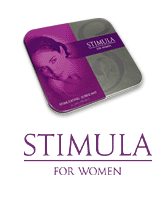 You might remember Stimula from such posts as "Get free stuff" and "yes Canadians can get a free sample too" (see the comment section in the first hotlink). Stimula is a clear gel that is meant to make a woman's "genital area" more sensitive, it can also double as a lube. It is odorless, water based, and water soluble (like a lot of other lubes).
I've tried a few other stimulating gels and often the active ingredient is something like a menthol that makes you feel tingly. In Stimula the active ingredient is Arginine, which is a great little amino-acid that does a ton of stuff, most importantly (in this case) it can be used to increase blood flow. More blood in your "genital area" is what happens when you get turned on AND is what makes you more sensitive.
Of course I didn't look up what makes Stimula work before I tried it, so after I aplied it i sat still for a few minutes waiting to see what I would feel. Since I expected tingles and didn't get any, I was worried that it wasn't working and applied some more, but after a few minutes of sex (what can I say, I wasn't going to wait around all night) I noticed that my "genital area" felt really warm, unusually warm – not scary warm, but hot and sexy warm. Why so warm? because blood is warm and the gel was working to pull more blood to my "genital area", heating it up.
What I liked:I did find that the gel had a nice texture, a little less viscous than some lubes, but def viscous enough to use as a lube. I also did enjoy the warming sensation that Stimula produced, though I can't be sure if I noticed any extra sensitivity.
What I didn't like: I have to say that I both liked and didn't like that the gel comes in individual sachets because sachets are not the most convenient thing to open when you just want to have some fun, a bottle would be easier. However, the benefit of the sachets is that you can throw one in your purse, one in your suitcase, and stash a few in your night-stand so that they are there for you wherever/whenever you might want to use one.
This product would be great for: people looking to try something new.
I appreciate that Stimula didn't just go with the over-used menthol gimmick in their product; their active ingredient actually does increase blood flow to the area. Stimula gets a healthy 7 out of 10.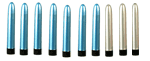 [P.S. if you're wondering why I kept refering to the "genital area" in this review, it's because we found the instruction "apply liberally to the female genital area" kinda funny.]