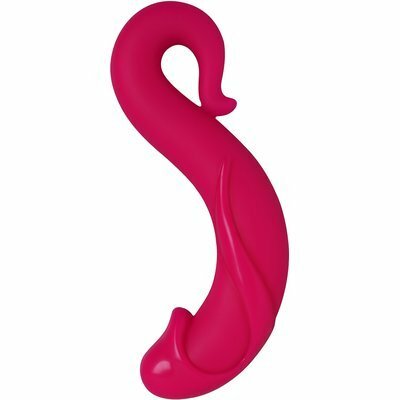 If you visited a dildo garden, the Curve is the kind of thing you could expect to see hanging from the vibrant green vines covering the nearby trellises; it has a very organic shape to it. I had read quite a few other bloggers raving about the Curve, so I was happy to give it a try for VibeReview.
The whole thing is made of phthalates-free silicone, which means that it's firm, but not hard, and a bit floppy. It was also a little bigger than I expected (and it's really fun to smack things with). So, on to the review!
What I liked: I loved the material that the Curve is made out of – it's got a great texture, it holds lube well, and I like that it's phthalates free. I also loved the look of it: the shape as well as the details on the flared head and on the shaft.
What I didn't like: For me, personally, I found that the Curve didn't fit me very well, so unfortunately, while I recognise that this is a quality toy, it just wasn't right for my body.
This toy would be great for: anyone who likes bigger toys and is looking for an interesting dildo to add to their collection.
Curve, you were a nice toy, but we just didn't fit together well. Therefore my personal rating for you is just 3 out 10: