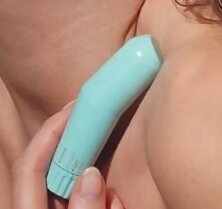 Jolie is another one of the Natural Contours toys that VibeReview sent me. She's a cute little mini vibe meant mainly for clitoral stimulation. It's made of what seems to be hard plastic (suggesting phthalates free), is waterproof, comes in a lovely shade of blue, and only takes one AA battery – how economical! Now let's talk about it's preformance:
What I liked: Jolie did have a really powerful motor, I was really impressed with how strong the vibrations were considering it's size and the single battery. I also really liked the design, it was very comfortable and easy to hold while I used it.
I'm not sure if this is a like or dislike, but Jolie only has one speed: that is, it's either on or off. Which means it doesn't offer any variety, but that won't really matter if you're the kind of person who just turns the speed to the highest setting anyway.
What I didn't like: That little motor was actually quite loud, you definitely could not use this one sneakily if your walls are too thin; but it is waterproof, so you could potentially bring it in the shower and let the water mask the noise.
This toy would be great for: anyone looking for a strong little mini vibe, but who doesn't have to be discrete when they use it.
Jolie you're cute, but noisy – you get a 7 out of 10