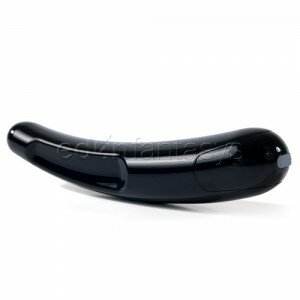 When I was searching for potential prizes for a recent contest, I happened to stumble across the Sabar in the new toys section over at EF and fell in love with it's sleek look. Lucky for me, Eden Fantasys was happy to send me one to review. ^_^
Sabra is made out of hard plastic and is phthalates free so it's a relatively safe toy to use and is really easy to clean. It was delivered super fast (and packaged discretely, in case you were wondering) so I actually had a chance to test it out before the contest even ended!*
What I liked: Sabra is indeed a very pretty vibe; it's sleek to look at and to touch. The controls were well placed and easy to use and vibrations did travel through the hard plastic fairly well.
What I did not like: I actually did not find this toy to be as quiet as my silicone vibes, which I feel is worth noting, though it didn't really cause me any problems. The sleek long groove along each side of the vibe didn't do much for me in terms of sensation, they mostly just seemed to collect lube. Sabar also didn't seem to be the most powerful vibe in my drawer either.
This toy would be great for: someone looking for something a little different to add to their toy drawer.
Sabar, you're a pretty little toy, but I just didn't feel like you quite lived up to my expectations, you can have a 4 out of 10: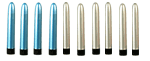 *p.s. in case you were wondering, the contest winner actually ended up going with the Hottie.