You might have already heard a few whispers around the internets about the Sex Blogger Calendar project. 12 sex bloggers in NYC have banded together to make a special pin-up calendar.
Special how, you ask?
There are tons of things that make this calendar special:
These sex bloggers themselves will be the pin-up models for the photos!
The funds raised by this calendar will go to support Audica Ray's Sex Worker Awareness project which works to educate and empower sex workers!
AND for a small fee anyone can purchase a day on the calendar and include a short message!
Sex Toy companies are buying days to offer special promotions; Bloggers (like me) are buying days to celebrate their blog's anniversary; and regular people (just like you) are buying days to celebrate their birthday/anniversary/etc!
Buying a day costs just $10 and for an extra $20, they'll even throw in a copy of the calendar.
But, there's more!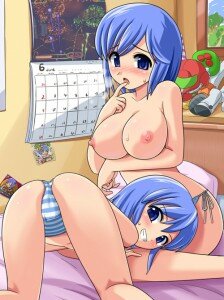 Remember how yesterday I said that you'd have other chances to win a prize from The S Spot?
I bet you didn't expect your next opportunity to come so soon!
The Sex Blogger Calendar Project has given me THREE whole days to give away on my site!
How would you like to "own" December 10th, 11th, or 12th on a calendar?
When the calendar is printed, your message will appear on that day for all to read and enjoy!
So how can three lucky readers win their very own day on the calendar?
Easy!
Just leave a comment with what your message would be (80 characters max please) by SEPTEMBER 30th and I will pick the three I like the best!
^_^