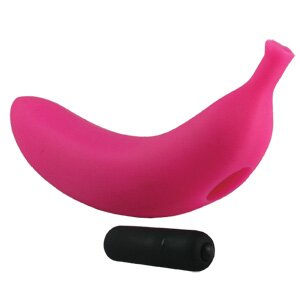 Is that a banana in your vag or are you just… oh it is?
Well carry on then!
The Sex A-Peel Vibrator that my friends at Babeland sent me is about the size and shape of a real banana – well, a pink one. The banana part is made of silicone and comes with a bullet vibe that you insert to turn it from a dildo into a vibrator. The bullet runs on watch batteries (which, thank goodness, come already inside, with a slip of paper preventing the toy from turning on during shipping), and turns on and off with the press of a button on one end. Since the bullet is removable, it's super easy to sterilize the banana between uses by boiling it or throwing it in the dishwasher (esp important if you plan to share with friends or use it anally as well).
What I liked: When I said I'd review this toy, it was partly because I thought it looked funny; but once I tested it out, I was REALLY impressed with how well the silicone banana transmits the vibrations of the bullet. It does a fine job externally (on a clit) and a decent job inside (as a g-spot vibe) because the banana has a great curve. The tapered tip of the banana is also great for user who might need to ease in toys – it's not the thickest in my toy box, but I would say that it's medium-ly thick.
What I didn't like: Maybe I'm going about it wrong (but it's such a simple toy, I'm not sure that's possible), but I can't get the bullet back out of the banana! It might take some lubrication to get it out, but that's kind of a pain. Also, that little bullet is a little on the loud side.
This toy would be great for: someone looking for a unique toy. I think this one is novel enough that a lot of toy fans wouldn't consider buying this for themselves, but it does work well, so it would be a fun gift.
The Sex A-Peel Vibe impressed me, I give it a 6 out of 10: