I like the idea of having vibes that plug in, like the Inspire, sent to me by my friends at California Exotics. Plug-in vibes don't ask that you have spare batteries kicking around, all they ask is that you have an outlet relatively near to your bed (or couch, or kitchen table? – wherever you plan to use it most often). (Please note that this is not a waterproof toy.)
The Inspire is a smaller version of bigger wand-type vibes (like the Ideal), but it makes up for it's more compact design by being clit meltingly powerful! It's made of high grade super silky silicone and has three main features: 1) (as I mentioned above) it plugs in, 2) it has a flexible head that bends nicely under light pressure, and 3) it only has one button to press.
That's right, one (1) button. How is this possible? Well, when you hold down the power button, the vibration intensity increases. How much does it increase? Enough to make my hand go numb when I held it against the head for a few seconds.
What I liked: I did like the simplicity of this toy's design, it's so simple to just keep that button pressed until you get to the speed that you like best (see below for the however). Plus, I really liked how flexible the head of the wand was, it's very nice for smooshing the vibe against whatever part of your body you want to stimulate. As you can probably tell, I was also really impressed by the power this smallish vibe packs, I kept holding down the button just to see how intense it would go and it pretty much blew me away.
What I didn't like: Yes, the one button press design makes the toy simple to use; however, if you want to adjust the speed of the vibe as you use it, you're more likely to turn it off than speed it up. Pretty much you'll want to pick a speed and stick with it, or you'll end up turning off the vibe and having to start all over to get to the level you want. On one hand it seems like a pain; on the other hand, I couldn't decide if it was much worse than scrolling through a selection of vibration programs on other vibes. The other thing too, is that it can get pretty loud once the vibration gets turned up to the higher levels.
This would be great for: someone looking for a smaller wand vibe that packs a punch, but who doesn't have to worry about waking a roommate with a noisy toy.
Inspire earns an 8.5 out of 10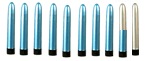 Wanna buy your own? Try HERE