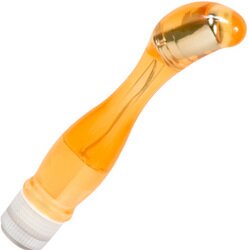 My friends at VibeReview sent me a Lucid Dreams vibe to try out; after checking it out online, I was intrigued by it's pretty colour and interesting shape. I'm a little picky about G-spot vibes though, so I thought I'd better check this one out in person.
Lucid Dream is a good sized insertable toy (7 inches long, 5 around), it takes two AA batteries (not included), has adjustable speed, and is made of jelly (read: NOT phthalate free). When I took it out of the box, it's colour and shape really were quite exciting, so I was eager to see how it would preform.
What I liked: I liked that the motor was at the end, near the g-spot rubbing bit, not in the handle. I can't believe more toy companies aren't doing this! It's so nice not having your hand go numb from the vibrations while you use a toy. The speed controller was super easy to use and it was similarly easy to put the batteries in. I also really like how it's shape felt once I started using it. This is quite a quiet vibe too.
What I didn't like: First of all I need to mention the smell. The very first thing I noticed when I took it out of it's packaging was that it smelled like chemicals. The smell faded after I cleaned the toy (before I used it), but still, it's not a very arousing scent. Unfortunately I also found that the vibrations weren't strong enough for me, it just couldn't seem to get me anywhere, which was disappointing.
This toy would be good for: people who are sensitive and don't need very strong vibrations to get off. Though if you're looking for something a little more versatile and that packs a little more punch, try the G-Swirl.
Lucid Dream's pretty colour and nice shape couldn't save it from getting a plain 4 out of 10: