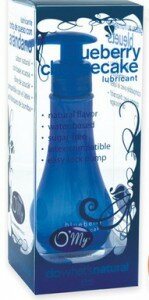 I'm wary of flavoured lubes. I've had some bad experiences in the past with lubes that tasted awful or numbed my tongue. Imho, lubes are meant for sexing, not for eating. But I was willing to give O'my a try since they are an acclaimed Canadian company. Their lubes are sugar-free, water-based, and latex compatible. Vibe Review was happy to send me a bottle and so I popped over to check out the selection.
There are a number of flavours to choose from, but I decided to stay away from the fruity ones (since everyone makes fruity lubes) and went with blueberry cheesecake, hoping it wouldn't be too gross.
What I liked: First off, I fell in love with the bottle as soon as I laid eyes on it – the shapely blue bottle of lube is absolutely gorgeous. I've still got it sitting on my bedside table because I don't think it deserves to be stashed in a drawer. I also like the pump, this is my first bottle of lube with a pump dispenser and it really does make a difference: it's much less messy to get a squirt of lube when you want it. The lube also has a great texture and viscosity, a little bit can go a long way without getting sticky.
Now let's get down to the important stuff – the smell and taste. The lube smells amazing, I absolutely love it! As soon as you start using it, the whole room begins to smell delicious and sweet. I wish O'my made a whole line of scented products – I would buy them all!
Despite the delicious smell however, I was still nervous about the taste test. Turns out I didn't have that much to worry about – although the lube doesn't taste as good as it smells, it also doesn't taste like much. Still, you won't catch me smearing it on toast any time soon.
What I didn't like: hmmm can't really think of anything. However, I do think that "flavoured lube" is a misnomer, it should really be refereed to as SCENTED lube, because that's what I would consider it.
This product would be great for: anyone looking for some beautiful lube that smells amazing and can make for some very slippery fun.
O'my blueberry cheesecake lube gets a sweet smelling 9.5 out of 10 (it lost .5 for not tasting like blueberries when it suggested that it would):