Diary of a Futa (part 5)
Are you ready for the next exciting chapter of DoaF?! Wait, let me answer that for you: no, you're probably not – not unless you're all caught up with the series (starting with Part 1)! At the very least you'll want to re-read starting from Part 3 before you continue with this installment, to set the tone / refresh your memory. ^_^
You go get caught up, I'll wait here…
… back? Excellent! – let's continue with the story:
I had barely closed and locked the door behind us when Laura pushed me up against the wall, kissing me hard. With one hand she pressed my wrist against the wall above our heads; she allowed her other hand to wander down, past our smooshed together breasts, to where her hips were pressed tightly against the achingly hard cock tucked up into the waistband of my skirt.
I groaned as we kissed frantically; she slipped her hand under my skirt and between my thighs to explore my sopping wet pussy with her fingers. I used my free hand to return the favour and within seconds I felt her pussy rhythmically contracting around my fingers.
"Oh my god, did you just cum?" I gasped, as I broke away from her mouth.
"Yes," she panted, "I've been feeling on the verge ever since I swallowed your cum in the library." She leaned in to continue our frantic kissing, now sliding her hand up to grab my cock. We moaned together as she pushed my top up, out of the way, and squeezed the throbbing head in her fist.
I'd never seen Laura like this before: like I said, we'd made out before, but it had always been a little more tentative and playful. I'd never felt her so hungry and aggressive with me. I wondered if maybe she'd been like this with her boyfriends, but a part of me didn't think so – that part of me was quite sure that something about what that purple fluid had done to me was affecting her now too.
"Wait," I broke away again, that part of me wondering: should I stop this? But the other parts of me didn't want to stop; it felt so good having my not-so-little new addition in her mouth at the library and I was aching to find out what else we could do together…
" We really should get up to my room, I don't know when my roommate is coming home."
Laura grudgingly peeled her body away and we quickly made our way to my bedroom. I could feel the juices from my pussy spreading over my upper thighs as I walked and I wondered if Laura was feeling the same thing, even through her panties.
Within seconds of closing my bedroom door, Laura was on her knees, pulling my skirt off to let my refreshed cock spring free. She quickly slipped me into her mouth again and I felt my knees go weak.
"Oh god, wait," I exclaimed and she looked up, "fuck, that feels so good, but you're going to make me cum already! I thought you wanted to try…. something else?" I asked shyly.
She slid my slick cock out of her mouth and grinned, "that's the idea, but you're so sensitive here," she flicked her tongue over my cockhead in demonstration and I gasped. "I want to make sure that you can last a while."
My cock throbbed hard, like all the blood in my body was flowing into it, making it ache pleasingly. "Well, at least let me sit or something, I don't think I'll be able to stand up much longer!"
We stumbled to the bed, Laura pushing me down on my back and straddling my hips as soon as we reached the edge. She quickly unbuttoned my top and slipped each of my breasts out of their bra cups. Then she unbuttoned her own top, throwing it and her bra onto the floor. She gripped the shaft of my cock in one hand and slowly lowered herself onto it.
It felt hot and wet and I could feel my cock start to sink into her softness. I groaned, feeling like I was going to lose my mind – but then it stopped, of course, she was still wearing her panties.
Laura giggled as I glared at her, "you're such a tease!"
"I told you, I want to make you cum again before we try that!" She scootched back on the bed and giggled as I grumbled.
"Hey, remember that time we had a threesome with my ex?"
"I guess," I answered with a pout, still stinging from Laura's teasing.
She leaned forward and squeezed my breasts, "you know how he begged us to 69 for him so he could watch?"
"yeah," I reached up and squeezed her breasts too, picturing sliding my cock in between them.
"Well," she began shimmying out of her damp panties, "I wanna try that now."
Laura kept me pinned on the bed as she turned around and slowly crawled up my body, pussy first. Within seconds she was above my face, pink and glistening. I was about to tell her how pretty I've always thought her pussy was when she simultaneously lowered it onto my mouth and took my cock as deep as she could into hers.
I tried my best to keep my head as she worked on my cock, bobbing up and down, sucking it deep, then pulling it out and running her tongue all over the head. I felt dizzy, but there were other things for me to concentrate on: I sucked her labia into my mouth, tugging on them gently and grinning as I heard her gasp around my cock.
I tried to think about what I liked when my boyfriends would eat me out; I slowly flicked my tongue over her clit, I licked firmly around the opening, and finally, I craned my neck a little so that I could get my lips around her clit to apply a little suction.
I must have been on the right track because Laura let my cock slide out of her mouth and moaned as she came.
"Fuck, that felt amazing!" she exclaimed. "I can't believe we've never tried this before! How did you get so good at that?" But before I had a chance to respond, Laura was on my cock again, finishing me off quickly with her mouth and her hands, expertly catching my cum in her wadded up panties.
I lay back on the bed panting, enjoying the leftover swirly feelings from that last orgasm.
"Wow, your cock is still totally hard!" Laura exclaimed, giving my shaft a squeeze. "You might be new to this cock thing, but you still have way better stamina than at least half the guys I've dated." Laura laughed as she stroked my cock thoughtfully, slipping three fingers into my pussy again as she reached the base.
"Okay, that's it," I said, sitting up, "I'm the one with the cock and it's definitely my turn on top!" I grinned as I shifted so that we were both kneeling on my bed, facing each other.
"Okay, " she submitted, giggling "but go slow, I wasn't kidding when I said you have the biggest cock I've ever seen!"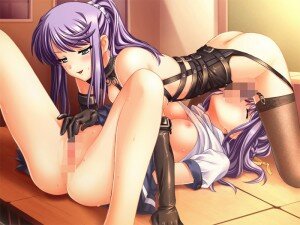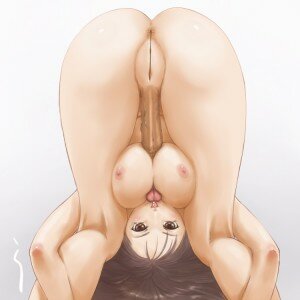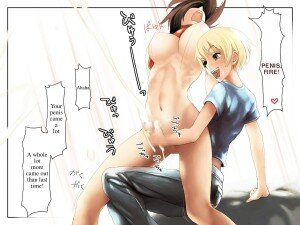 Posted: October 24th, 2008 under erotica, futanari.

Comments
Write a comment